Playlist
Alan White - Ramshackled
Various Artists - Kompakt Total 12
Die Ärzte - Live: Nach Uns Die Sintflut
Aitana - Spoiler
Mariola Membrives - Lorca, Spanish Songs
Vijay Iyer Sextet - Far From Over
Bill Frisell & Thomas Morgan - Small Town
Premiata Forneria Marconi - I Grandi Successi
Joe Harriott - Free Form
Art Blakey & The Jazz Messengers - 3 Blind Mice (Volume 1)
Art Blakey & The Jazz Messengers - 3 Blind Mice (Volume 2)
Rodrigo Leão - O Aniversário
Albéniz - España y otras piezas para piano
Ligeti - Réquiem; Obras de cámara
Igor Koroshev - Piano Works
Joe Harriott - Southern Horizons
Zahara - Astronauta
Françoise Hardy - Françoise Hardy XIV (Et Si Je M'en Vais Avant Toi)
Yes - Works
Cloudland Blue Quartet featuring the Capital Models - Kind of Live at Club Nitty Gritty
Out into the morning, nice and early...
More Quentin Jardine books noted at lunchtime, the titles of which I need toi get round to checking against what my mum already has - which is surely almost everything...
Other than that, this is kind of how interesting the day was...
In the evening, I set about creating a six LP side compilation of tracks from the five solo albums by the members of Yes, recorded in 1975/6 - and, lo, it was good...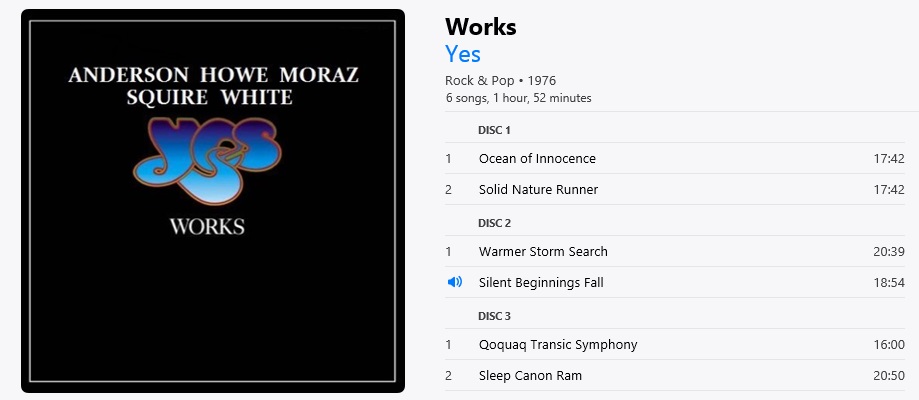 Actual tracks are...
Sides 1-3
Ocean Song/Impressions/Spring Song of Innocence/Avakak (Anderson/Moraz/White)
Hold Out Your Hand/Solid Space/The Nature of the Sea/To The Runner (Squire/Anderson/Howe)
Impact/Warmer Hands/The Storm/Moon Ra/Chords/Song of Search (Moraz/Anderson)
Sides 4-6
Beginnings/Silently Falling (Howe/Squire)
Qoquaq Ën Transic/Naon/Transic Tö/Marching Into a Bottle/Break Away From It All/Symphony in the Space (Anderson/Howe/White/Moraz)
Doors of Sleep/Safe/Ram (Howe/Squire)
...just in case you want to make one up yourself...
On "University Challenge", a reasonable performance from Team Crispycat, scoring 130 points and coming in second. Captain Wang was extremely annoying...
Lights out
Highlight of the Day : Yesmusic...